New fonts of the week
Every day new fonts are released, let's take a look at some of the best fonts published in the past seven days.
Posterizer KG inline
Posterizer Kg Inline, is basically the Inline version of Egiptian Slab Serif font Posterizer KG. Posterizer KG Inline is useful for diplomas, magazines, headlines and many other things.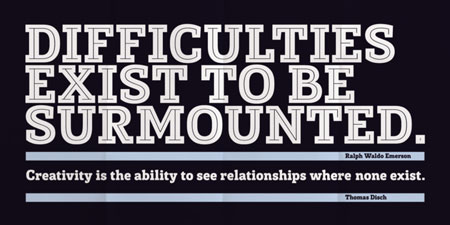 MVB Solitaire Pro
MVB Solitaire Pro is a beautiful sans-serif font family that comes with many weights and styles, nice alternative if you are getting tired of Helvetica.
Staxx Pro
Staxx Pro is a fantastic plastic display font for ads, posters, billboards, covers, car and truck design etc.
Pixapp Inter
Pixapp Inter is a pixel font optimized for display on screen. Highly suitable for small text display in apps or on web. Pixapp Inter is a multilingual font appropriate for publishing to international environments.
Equip
Equip, a new versatile geometric sans face in 16 styles, designed on a geometric base. Low contrasted lines and a sturdy ductus give it a strong appearance. It looks open, generous and unsentimental. A large selection of weights and many useful OpenType features allow an easy adjustment for a wide range of applications, in print and on the web.