Manage your fonts on iOS with iFont 2.0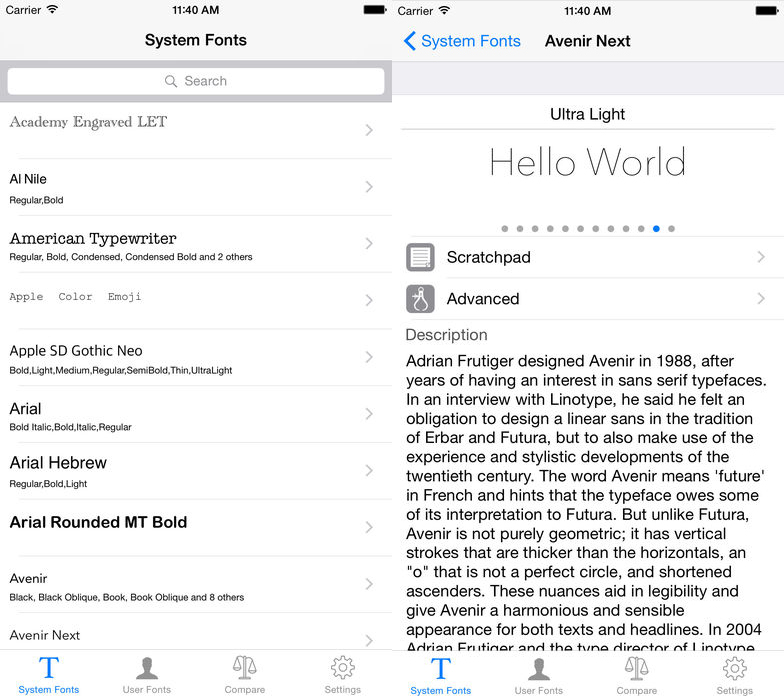 Available now, iFont version 2.0 allows iPhone users, and for the first time iPad users, to install .ttf and .otf files on their device for use in other apps such as word processors. Mobile users can now use custom typefaces on previously limited mobile devices, increasing creativity and productivity. iFont also includes tools for comparing fonts and sharing messages on social media platforms – anyone can now communicate in a variety of typefaces from their iPhone or iPad.
Import favourite typefaces into iFont to use throughout the system. Just open each file (either .ttf or .otf) in iFont to import it and use in other apps. Now font enthusiasts can also import fonts straight from popular cloud storage services, streamlining their workflow. iFont makes it easy to compose the next leaflet or presentation in a unique typeface, right from the palm of the hand.
Use iFont to compare many different fonts to see which will suit the situation best. Arial or Helvetica? Georgia, Iowan Old Style or Times New Roman? Bold or regular? With the comparison view in iFont, anyone can be the judge. Compare up to twelve different fonts on one screen with iFont for iPad.
The Scratchpad enables users to send images of messages to friends and family in any font which is installed, and Advanced view allows users to see detailed information about each font, from the copyright license and Postscript CID to the spacing of the ascents and descents. iFont is a comprehensive application which can be utilised by casual users and professionals alike.
iFont is ad-supported and available free on the App Store, with an optional $0.99 (priced accordingly in other regions) In-App Purchase to remove adverts and enable the option for a blue theme. iFont is available worldwide in both English and Spanish.
iFont is developed by Coding Corner LLP, a partnership founded in 2016 by Tom Hunt, Cameron Leask and Robin Sullivan.