New fonts of the week
Every day new fonts are released, let's take a look at some of the best fonts published in the past seven days.
Numina
Numina is an elegant and highly condensed modern display family comprising two complementary faces. Too bad they used horrible gradients in the showcase images.
Le Havre Titling
This font is a carefully optimized version of Le Havre that uses purely capital lettering.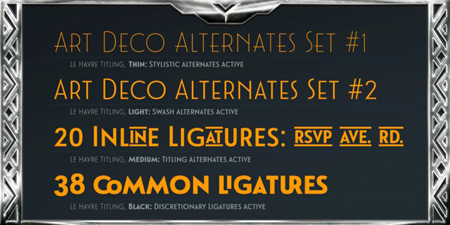 Graduate
Graduate Script is a contemporary calligraphic script. With over 825 glyphs Graduate Script can be dressed up or down, to enliven its style. You can add curles to beginning and end of any lowercase letter, or even in between them.
Grafolita Script
Grafolita is a type family of three fonts. It offers great versatility in composing layouts with different point sizes, as it allows the user to balance the weights between bigger and smaller letters.