New fonts of the week
Every day new fonts are released, let's take a look at some of the best fonts published in the past seven days.
Prohibition
Packed with some new surprises, this vintage sans typeface takes queues from classic war and workforce posters to industrial factories.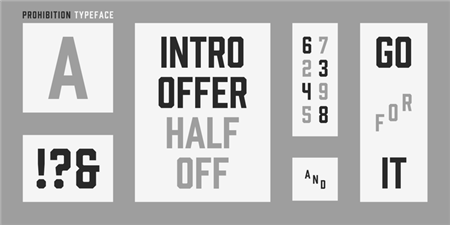 Core Circus
Core Circus is a layered type family consisting of seven 3D effect layers, eight 2D effect layers and one shadow effect layer.
Aparo
Aparo appears to be a very simple bold italic roman typeface, but it has plenty of calligraphic flair, including swashes that make your words stand out, collision detectors so that you don't get weird combinations, alternate characters activated by default for improved calligraphic effect and a very extended character set in a total of 897 glyphs.
Ristretto Slab Pro
Ristretto Slab Pro is a slab-serif companion to Ristretto Pro. It's an extremely narrow display slab-serif font family with asymmetrical serifs available in 8 weights. It features rich language support, 6 sets of figures and small caps.