Fonts of the week
Each week, we write a post that collects quality fonts that have been published recently. If you want the most interesting deals, you should subscribe to our font deals website.
Sucrose
Sucrose from Yellow Design Studio is a premium high-resolution letterpress family with rectangular letterforms and authentic, hand-crafted texture. It features 8 distress levels for all letters (4 for other characters) that can be mixed to create realistic, custom typesettings. The 20-font family includes light and bold weights plus clean and slanted versions.
Solitas Slab
Solitas Slab offers you a full suite of 42 well-rounded fonts that read well both in print and online. Its round, open letter types make it quick to read, and the intermediate weights execute impeccably for copy, while bolder versions make expressive headlines and subheadings.
Frygia
Frygia Family consisted of 20 styles and 10 weights, ranging from the thinnest Hairline to the boldest Black and a Semi Rounded corner to suit the concept of the typeface.
Blend
This layered font is flavored with the handcrafted spirit that characterizes all Typesenses' fonts and it is perhaps the one that most shows the hand of its author, Sabrina M. Lopez. Although this cute collection takes elements from visual universe of Bakeries and Coffee Stores, it is only a metaphor. You can create your own look and use it for logos, magazines, menus, books for children, invitations, wedding/greeting cards, packaging, labels, winery, etc. All your designs will have a lovely homemade touch with Blend.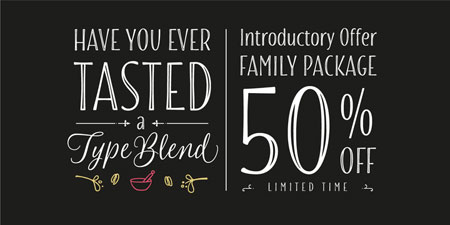 Realtime Text Rounded
Realtime Text Rounded is the proportional alternative to the monospaced Realtime type family. Nevertheless Realtime Text Rounded includes a monospaced design already built into the font. It is employable through OpenType by activating alternate characters. Realtime Text Rounded is a technical yet friendly design with details that serve function and visual impact alike and lends itself to tabular designs, sturdy columns and tidy layouts. It comes in five weights, from light to black, and with a character set that covers over 200 latin languages.